Kids go off to school almost every day to learn reading, math, science and more. Now with the help Building Healthy Communities, they can also learn how to be a healthier person.
For the ninth year, elementary schoolers can fight childhood obesity and get healthier with common sense solutions with the school-based wellness program's help.
Building Healthy Communities (BHC), originally created by Blue Cross Blue Shield of Michigan in 2009, is an evidence-based, comprehensive, school-wide initiative supported by multiple statewide organizations, including the Michigan Department of Health and Human Services (MDHHS), the Michigan Department of Education (MDOE), the Michigan Fitness Foundation (MFF), Michigan State University Extension, Michigan Team Nutrition, United Dairy Industry of Michigan (UDIM) University of Michigan, Wayne State University Center for Health and Community Impact and Action for Healthy Kids, who work together to teach kids healthy habits, address childhood obesity and transform the school environment
BHC uses evidence-based, comprehensive, school-wide tactics to get everyone informed and more educated about their day-to-day decisions. Students, teachers and administrators are prepped in ways the school can become a healthier place.
More than 230,000 students in more than 500 Michigan schools have been reached through Building Healthy Communities and nearly 150 schools started the program last year (click here to see TheHUB's year-long series regarding Building Healthy Communities)
There are currently three programs available for the 2017-2018 school year:
Step Up for School Wellness Program
Elementary School Program
Middle School Program
Applications will be accepted for the Building Healthy Communities: Elementary School Program through March 29. Applications for Building Healthy Communities: Middle School Program and Building Healthy Communities: Step Up for School Wellness will be announced later in 2017.
The Building Healthy Communities programs are open to all public, charter, and non-profit schools in Michigan. Interested schools are encouraged to review full program descriptions and application information at www.bcbsm.com/buildhealth.
Since the program launched there has been a noticeable change in kids who have taken part.
Students participating in the Building Healthy Communities: Elementary School Program demonstrated a 28 percent increase in calories burned daily and ate 40 percent more fruits and vegetables than the national average for six to 11-year-olds. Students reported 130 percent more energy, 83 percent less trouble sleeping and an improved quality of life.
"Blue Cross Blue Shield of Michigan is committed to investing in the future of Michigan children and proud to partner with such great organizations throughout the state that share this same affinity for childhood health," says Lynda Rossi, executive vice president of strategy, government and public affairs at Blue Cross Blue Shield of Michigan. "Building Healthy Communities creates a positive impact on participating schools' culture of health by providing the resources and education necessary to help children develop lifelong, healthy habits."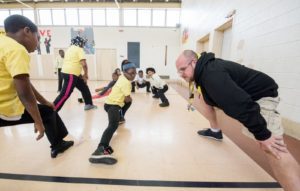 The programs will:
Educate students through classroom lessons
Create an environment that makes the healthy choice the easy choice
Encourage students to practice lessons learned in the classroom
Provide opportunities for physical activity
Improve access to healthy food and beverage
"Through our statewide partnerships such as Building Healthy Communities, we are committed to continuing to make sustainable changes to ensure that school environments are supportive of healthy eating and physical activity," says Nick Lyon director of the Michigan Department of Health and Human Services. "Because we know that children who are exposed to healthy and supportive environments are more likely to live healthy lifestyles, partnerships such as these are vital to supporting new skills and knowledge through physical and nutrition education opportunities."
For more information on Building Healthy Communities or to apply for any of the programs, visit bcbsm.com/buildhealth.
RELATED POSTS
Building Healthy Communities aims to curb childhood obesity by keeping kids active, eating right
Students at Timbuktu Academy learn how to build a healthy community
Try it Tuesdays: How schools are helping our kids develop healthier habits
On The Road To Better Health: How one parent is working to build healthier habits at school and at home
Power Off: Why kids need a break from technology
Moving Forward: A PE teacher's perspective on how BHC is making a difference
Comments
comments