Getting kids inspired about the so-called 'hard skills' of STEM (Science, Technology, Engineering & Mathematics) isn't as difficult as many think.
Watch any kid engage with a gaming or other device and you get the picture.
That's the idea behind Kettering University's Robotics demonstration scheduled to take place at the Moving You Forward Opportunity Expo, which will take a 'show them' rather than 'tell them' approach to entice area students to consider the merits of STEM involvement and, perhaps, even a career in the financially rewarding technology sector. The event is happening on Oct. 9 at Kettering.
The University's robotic team will head up the demonstration, which always ends up being a showstopper among students and adults alike. Some liken the activity to a virtual reality-type experience, where the audience 'feels' the action on the floor.
According to Bob Nichols, the director of the FIRST (For Information & Recognition of Science & Technology)  Robotics Community Center at Kettering University, they plan to have a variety of robots on display for demonstrations and several types of robots that students can actually play with. 
"For the elementary age kids, we will have a playing field or two so they can play some games with the robots. We want them to get excited and have fun while their parents are busy," he says.
"A FIRST robotics competition is a "STEM Rock Concert much like a basketball game with lots of noise (music, cheering, play by play announcing) with mascots, big crowds, etc.," says Nichols, who notes you have to "see it to believe it."
Nichols reports that this year Kettering awarded over 50 robotics scholarships to high school seniors across the country. He explains the students stand to attain skills that most high school graduates do not have — being on a robotics team in high school allows the development of soft skills such as leadership, teamwork and communication. Additionally, they learn many technical skills including electrical, mechanical, programming and CAD (Computer Animated Design) skills. 
Many big name companies also sponsor robotics teams and the FIRST organization, according to Nichols.
"As you might expect, GM, Ford, Fiat/Chrysler, Bosch, BAE, all sponsor to try to get their hands on these talented young people. Students involved in robotics in high school are in high demand from these companies," he says. 
Engineering and science universities are also competing against each other to recruit young talent. Nichols explains this is because there is such a short supply of students going into STEM careers.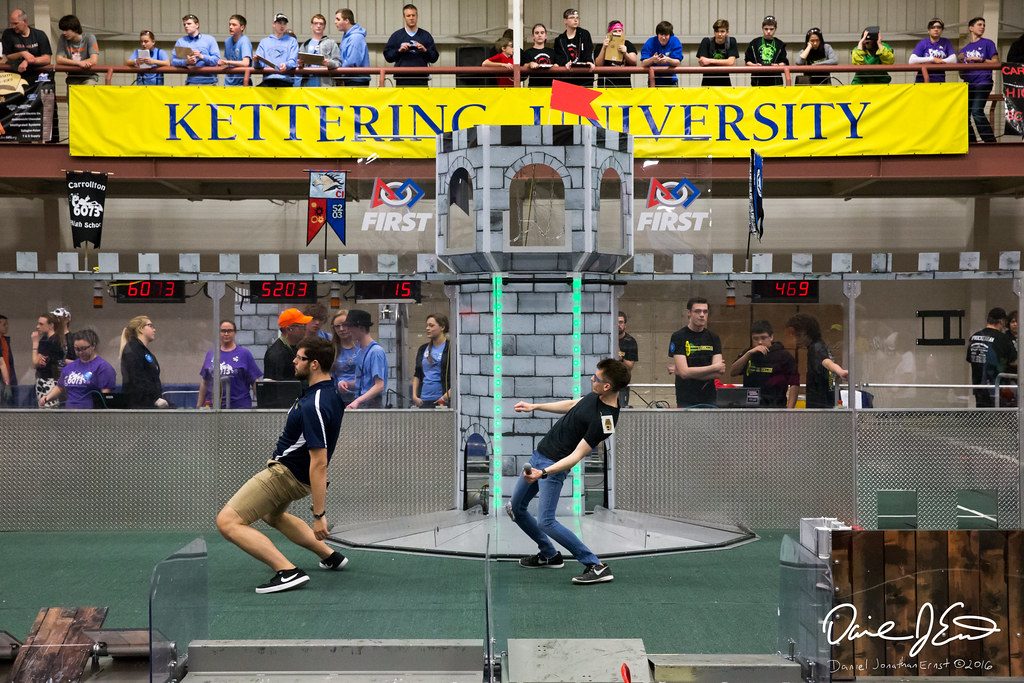 Kettering had 36 camps this past summer for kids from first grade to twelfth grade as part of an effort to get youth excited and interested in engineering and science careers. It's Taylor's hope that expo attendees will also ask about next year's summer camps (www.kettering.edu/precollege). 
 "We need to allow our kids to be exposed to career opportunities at a young age. Even just getting an awareness of what kind of training is available for the next generation can help give families a vision of a better future and how they can support each other and build that together," says event organizer and Metro Community Development's Grace Taylor.
Editor's Note: In addition to educational resources, more than 50 community-based organizations will be on hand at the Oct. 9th "Moving You Forward Opportunity Expo" at Kettering University from 10 a.m. until 6 p.m. Participants will be able to meet with financial aid, health, housing, insurance and neighborhood resource specialists, in addition to employers, bankers and area nonprofits.
Confirmed exhibitors include:
City of Flint
Consumers Energy
Flint Registry Outreach
Genesee County Habitat for Humanity
Genesee County Land Bank
Genesee County Prevention Coalition,
Genesee Health Plan
Genesee Health System
Greater Flint Health Coalition
Hamilton Community Health Network
Holy Cross Services
Home Depot
Huntington Bank (Workshop)
Hurley Medical Center
Kettering University – First Robotics Team (Demonstration)
Latinx Technology Community Center,
Legal Services of Eastern Michigan
LISC Communication Access Center for Deaf and Hard of Hearing
McLaren Hospital
Metro Community Development (Workshop)
MSHDA – Michigan State Housing Development Authority (Workshop)
Michigan State University-Flint Campus
Michigan Works!
Molina Health Insurance
Mott Community College
Mott Workforce Development,
National Kidney Foundation of Michigan,
Neighborhood Engagement Hub
Oak Street Health
Social Security Administration
Sovita Credit Union
Stroke Ready (Workshop)
Total Life Prosperity
United Way of Genesee County
USDA Rural Development
Wellness Services
YWCA
Zeta Phi Beta Sorority, Inc.
Comments
comments