by Deena Hosmer 
Flint coffee shops are serving up more than just delicious hot beverages and pastries. They're serving up a heaping helping of inspiration that is revitalizing the city from the grounds up.
These shops are helping redefine Flint with culture, art, and events, especially in the evening, that draw in local and out-of-town residents and generate revenue and excitement for the city.
For example, Good Beans Café opened in 2000 in the Carriage Town neighborhood, which has seen its share of difficulties. Today, it is a meeting place for the community and helped many have launched their creative efforts.
"Good Beans Café is truly representative of the resiliency of Flint," says Dawn Hibbard, longtime resident of Flint. "(Owner Ken Van Wagoner) renovated an abandoned building in a struggling historic district at the edge of downtown for almost 10 years before the downtown revival gained any traction."
"Good Beans has been a home for everything from grassroots activists, drag shows, spoken word contests to the Kettering Gay/Straight Alliance. Ken literally paved the way for other economic development initiatives to succeed in the downtown area by carrying the torch long before it was fashionable," she says.
Like many of the coffee shops, Good Beans Café offers students from Flint's four colleges and universities a place for the students to meet and socialize. It is these students who will pick up the torch of revitalization and carry it into Flint's next generation.
The newer coffee shops have grabbed that torch and made it their own, with a variety of themes and offerings. Though each one serves coffee and treats, there is a uniqueness embodied in each shop that echoes the variety you find in the Flint community.
Many encourage new business and development ideas and offer display space to local artists and a venue for local farmers and craftspeople.
There's also a general sense of community at locations like The Palette Café, located in the Flint Institute of Arts, and Hot Cups Coffee & Tea, located in the Flint Farmers' Market, features the art of local artist Pauly Everett. Hot Cups Coffee & Tea also sells Flint-made merchandise.
Good Beans Café, The Palette Café, and Café Rhema host activities and concerts that bring the Flint community together.
Whether it is college students looking for a place to study, a couple on a first date, or office workers breaking out of the stuffy conference room for a meeting, there is a Flint location for whatever is needed.
With so many choices, morning meetings in Flint will never be the same.
When workers are stuck in that conference room Donna's Donuts has provided delicious donuts in Flint since 1962 for those who need to grab a baker's dozen or more.
With to-die-for pastries, coffee, and tea Café Rhema, Good Beans Café, and Hot Cups Coffee & Tea either have or are near spaces that make for interesting meetings and productive collaboration.
"The proprietor greets you with a smile while wearing retro clothing," Amber Stevens says about Hot Cups Coffee & Tea. "I visit her at the Flint Farmer's Market every time I'm in the area."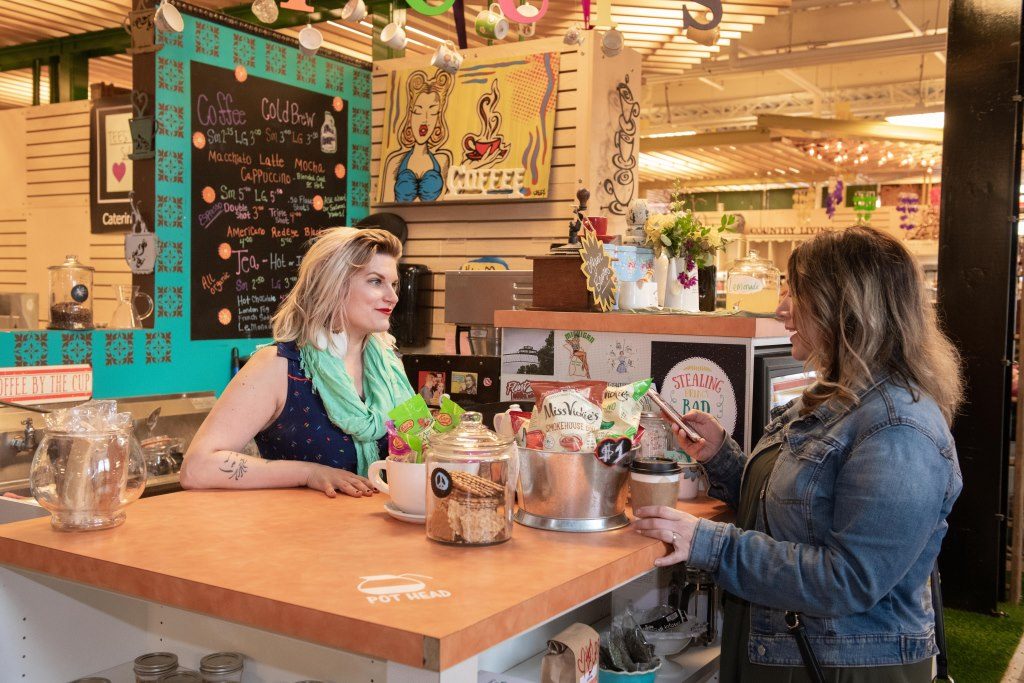 For workers who've grown tired of a solitary lunch at their desks many of the shops offer a unique opportunity to get out of the office to network with coworkers or to meet someone new over delicious lunch fare. The locally sourced ingredients in the Flint Crepe Company's recipes turn their savory crepes into an experience that shouldn't be missed.
Despite their unique settings, a theme of commitment to their community threads through everything each of Flint's coffee shop owners do.
The Community Café at Totem Books brings people together and provides a good read and a tasty bite with fresh made soups and sandwiches, including gluten-free and vegetarian options.
With vintage décor and 1920s-style staff attire, Café Rhema captures the energy of a bygone era to propel Flint forward into a family-friendly, culturally-diverse future.
Founded in 2014, the Foster Coffee Company, with its aqua and teal tones, brings to mind a mid-century modern vibe inspired by amazing coffee shops the owners long-time friends Jonathan Moore and Nicholas Pidek, experienced in their travels. It was these amazing shops they wanted to share with the Flint Community.
They feel so strongly about fostering community through coffee they put it in their name and their slogan – "We love coffee, but we love community and people more."
Collaborating with many other local businesses allows Foster Coffee to create a regional ecosystem of sustainable business practices.
Flint Pastor Martez Warren, owner of Chill Coffee Café, says he was motivated to open a place where Flint residents could feel comfortable to share more than just a love of coffee.
"Chill Coffee Cafe is a place that not only offers coffee and other beverages, but with a relaxing environment, it has become a place that gives hope, joy, and love," says Natasha Warren, who runs Chill Coffee Café with her husband Martez. "We believe great coffee plus great conversation equals great memories."
Flint Crepe Company uses Flint-roasted coffee and locally sourced ingredients for their sweet and savory crepes. Wildroot Coffee and Hot Cups Coffee & Tea both serve coffees and teas from local roasters.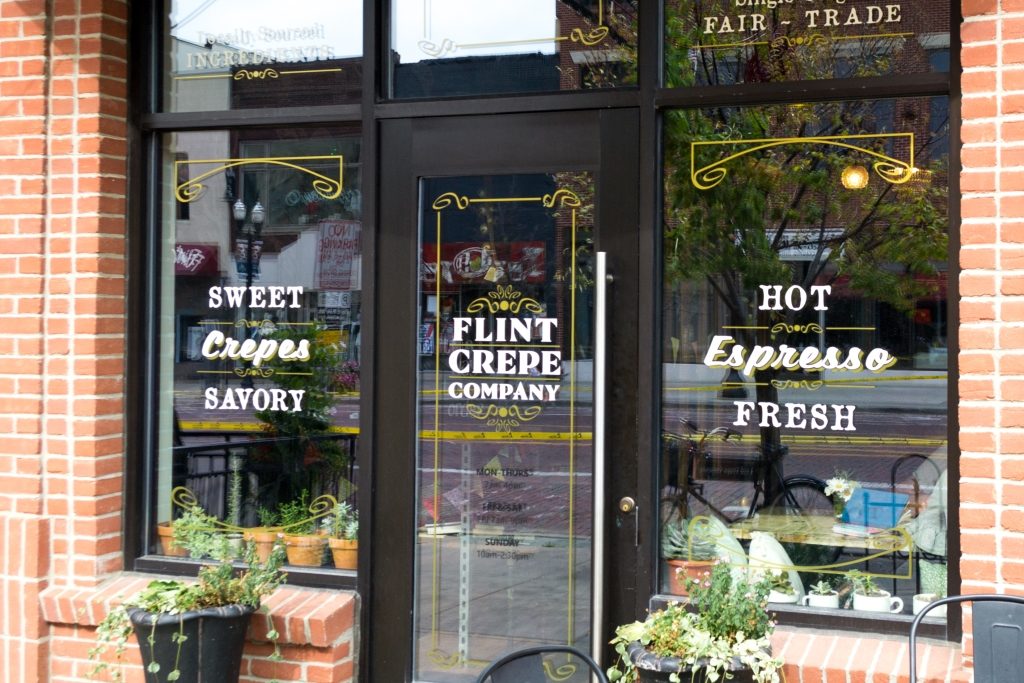 "Flint Crepe Co opened as a food cart in 2008 and later as a downtown Flint storefront in 2011 with the goal of serving local and seasonal food along with locally roasted coffee," say co-owners Robb Klaty and Tim Goodrich. "Tuesday tips for charity is one of the primary ways we happily give back to the community. Each week we choose a different local charity to support and have been able to give back more than $25,000 since we started."
Most of the Flint coffee shops serve organic and sustainably-produced coffees, teas, and food, in addition to a commitment to recycling. Most shops offer options for visitors with a variety of special dietary needs as well.
These coffee shops are bright spots in their neighborhoods that provide gathering spaces and inspiration to the residents and provide a family-friendly place for people to come together. They are even loved by people who don't drink coffee.
Editor's note: See our past coverage on Cafe Rhema here.
Lead photo: With Good Beans Coffee owner Ken Van Wagoner created place for the community to share ideas and launch creative ideas. Photo: Danen Williams
Comments
comments