As cities go, Flint has more than its fair share of neighborhood organizations, block clubs and concerned citizens who want nothing more than the growth and prosperity that has started to take hold to continue.
Right alongside them are nonprofit organizations that are working to better the city.
Primary among those is the Ruth Mott Foundation, well known as the backbone of so much civic activity in Flint. The foundation has held numerous community forums over the past three years to hear from residents directly about what they want and, most importantly, what they need.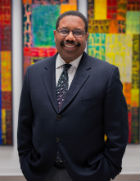 One of the more recent forums, entitled "The RMF North Flint Strategic Plan Update and Community Forum," was held in December at the Asbury United Methodist Church. It drew a large crowd ready to take action and continue efforts already underway in a part of the city that has had a good dose of difficulty.
"I was very pleased with the attendance this time around," says Ruth Mott Foundation President Handy Lindsey, Jr. "We had a diverse crowd with representation ranging from young people to seniors. Our forums are open to the public. Anyone can attend."
The goal was to inform the public about Mott's activities and ask how it can work with residents, various block clubs and organizations to better the community.
After the 2015 and 2016 community forums, the foundation made a commitment to continue collecting feedback from residents to help it create a collaborative strategic plan.
"That's why we hold these forums," Lindsey says. "We're not going to decide how to help north Flint. We're asking the people who live, work and raise their families there what we need to do to help them live their best lives. Philanthropy can't bring about lasting change unless the people we serve are at the center of our work.
"We consider it absolutely critical to our work. When we launched this strategy, we made a commitment to listen to the residents, and my only expectation was to do just that," he says.
Eight forums were held and the feedback garnered led to the four priority categories adopted for the foundation's strategic plan – youth, safety, economic opportunity, and neighborhoods.
Lindsey presented these at the start of the recent forum, pointing out that addressing youth issues is critical as is eliminating the blight seen citywide, something that's already part of the foundation's safety priority and programming.
"We engaged over 500 residents at our previous forums and asked them to vote on the areas they found important," he says. "From there we would know how to focus our grant dollars."
Lindsey cites such improvements as the redevelopment of the old Bunche school into the Flint Development Center and turning the Berston Field House into a neighborhood hub as examples. He also mentioned programs that help formerly incarcerated individuals learn skills that have helped them transition back into their communities.
"We still have a lot of listening to do," he says. "We're excited about the opportunity to have even deeper conversations with north Flint residents about this shared strategy and how it's working."
After Lindsey's presentation, participants at each table got to sit with a Ruth Mott Foundation staff member who acted as a facilitator helping guide the discussion.
One resident commented that she could really see the difference from the improvements made in her neighborhood over the last two years.
"That was wonderful to hear," Lindsey says.
To further conversation, round tables were set up and lunch was served with the room encircled by various organizations there to inform the public about their individual missions.
One of those in attendance was Crime Stoppers, the crime prevention organization that encourages citizens to submit anonymous tips when they see a crime being committed. The issue of community safety remains a challenge in north Flint neighborhoods.
"The more tips we receive, the better," says Marc Jaruzel, Crime Stoppers project manager. "I was happy a lot of the attendees came by our table to ask questions."
Crime Stoppers  received a grant from the Ruth Mott Foundation in June enabling Executive Director Julie Lopez to bring Jaruzel onboard. The grant is also to be used for the northeast corner of the city, the area bordered by Carpenter Road, Center Road, Robert T. Longway, and I-475.
Jaruzel says his organization seeks to integrate its work into the community as much as possible through direct methods such as posting billboards on issues like unsolved crimes and gun safety. It also plans to hold meetings and press conferences, use social media and market materials and issue public service announcements to spread the word.
This forum offered him a perfect opportunity to talk to the public about how they can have a hand in solving crimes.
The neighborhoods may have their problems, but Jaruzel says "the block clubs are amazing, the residents are great. It's definitely getting better."
Shon Hart, founder and executive director of InvolveDad, also attended the forum. His organization, which helps men become better and more responsible dads, especially those who are incarcerated, recently received a $75,000 grant from the Ruth Mott Foundation. He says a job after college working with men in the prison system turned into a ministry he loved.
"There's a commonality with men in prison," he says. "Many grew up in single-parent homes or were raised by grandparents. They had absentee fathers. I created a platform for them to be transparent."
Hart has received calls for his program to expand.
"They need it and it is necessary," he says of the population he serves. "So many men are hurting. They break down crying in our meetings. What we do lets the hardest of the hardest man open up."
Hart holds a bachelor's degree in counseling from Michigan State. He is also a motivational speaker, pastor and author. His book, From Average to Elite, comes out January 1.
"It was great to be around other people who want to change the city," he says of the Mott forum. "What I like about the Ruth Mott Foundation is the approach. They ask questions, people give them answers, and then they try to execute."
For Lindsey, the meetings are working, as is the conversation between stakeholders.
"Folks are happy with the wide distribution of projects we're funding. They're not concentrated in one area or another," he says.
Still, he knows North Flint won't be transformed overnight and there's a lot of feedback yet to analyze. The Ruth Mott Foundation will consider all of it to shape its work moving forward.
"It's going to take time and investment," says Lindsey. "We're putting in the time, and we're making strides every day toward improving the quality of life there."
Lead photo: Forum attendees contribute their opinions as Ruth Mott Foundation president Handy Lindsey asks them for their recommendations on the foundation's Flint strategy.
Comments
comments