Feeling at a crossroads, Carl Franklin Jr. was frustrated.
It was just months after the Flint performer, known to fans as Furillostar, released his mixtape, Dreamboy, last year, but his career wasn't progressing the way he expected.
"I felt like I was doing everything I could possibly do and wasn't seeing any results," he says.
Traveling to promote his music and performing local shows left Franklin, 27, still believing his brand was "in a stagnant place."
"I felt like I wasn't excelling," he says. "They say the definition of insanity is doing the same thing and expecting a different result. That's what I felt like I was doing, the same thing. I wasn't seeing the fruits of my labor."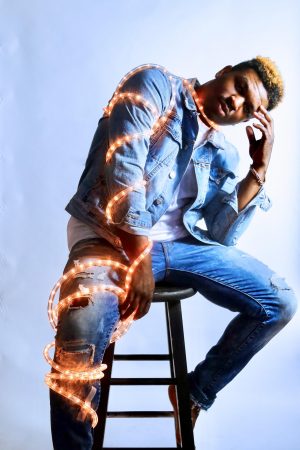 Now, a year later, Franklin's outlook is more positive. After collaborating with a new production team in early 2018 he released Pride, his first EP, during the summer. To celebrate the release and showcase Furillostar's reinvigorated spirit, he'll perform Nov. 3 at Local 432, 124 West First St. in Flint. Doors to the show open at 8 p.m.
Joined by Jaywithbenefits, Rashad Reed and Brelia Renee as opening acts, Franklin says he'll add a band and more exciting choreography to his live act.
"Dance is huge in my performances," he says. "I was asking myself 'What can I do? People know I'm going to sing.'"
There will also be some "other elements of surprise" for those who've enjoyed past Furillostar shows, he adds.
Pride's title is a reflection of his attitude about the six-song EP that garnered 20,000 plays on Spotify in two months and is "still growing," he says.
"I would like to say I've worked harder on this project than I've worked on anything in my life."
But the months preceding his return to the studio to record Pride didn't foreshadow energy or enthusiasm.
"Before the beginning of recording Pride I was really, really sad," he recalls. "I don't want to say depressed. I think depressed is a huge word, but I was really down about where my career wasn't going."
Franklin decided to take some time away from his music to pray and reflect.
Then in January of this year he was approached by Flint-based music producers, Block Symfany. Consisting of the duo known as Rio Da Ghost and Drew, the team offered their insight and talent, suggesting a collaboration.
"They'd already heard my work and they kind of felt the same thing that I felt," Franklin says. "They saw what I was trying to do and they wanted to help. It's crazy because they have helped so much – so much!"
Brelia Renee wrote some of the EP and rapper Kilo Paris gave input and recorded background vocals on Pride. The new creative partnership "really lit a huge fire under me, like a fire that I haven't felt in a really long time," Paris says.
"It's been nothing but really good feedback on the project."
Saturday's show was rescheduled from an earlier October date when Franklin's sister, Sareeta Mclean, suffered a stroke during childbirth. Franklin says she's "98 percent better" and plans to attend the performance.
Saying all of Pride's songs feel "strong and dominant," he adds that he's "never been more proud of anything I've worked on."
No longer unhappy with his career's progress, Franklin also says doors of opportunity have started opening.
"I just want people to enjoy and appreciate what I have to offer as an artist," he says.
When he became frustrated he "felt like what I wanted was so materialistically driven that I forgot about the art and about why I wanted to sing and dance, and be an entertainer in the first place."
The show will reflect his reconnection to the joy of performing.
"That's why I wanted to do it," he says, "because I want to make people feel like that."
Tickets to the Nov. 3 performance will be available at the door and at eventbrite.com.
Comments
comments