They are solution seekers.
The people who attend the Flint Neighborhoods United (FNU) meeting the first Saturday of every month come to voice their concerns, hear those of others, and make decisions for change in the respective places they call home.
It's the same people every time. Familiar faces from neighborhood block clubs and area nonprofit organizations. Faces like Chris Zuwala of Potter Longway and Tryphena Clarke of the Ruth Mott Foundation.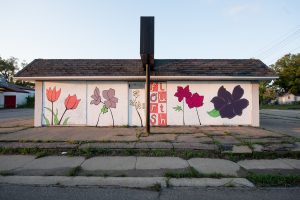 FNU is the nonprofit, grassroots coalition of block club, neighborhood association and crime watch captains and presidents (or their designated representative) run by Carma Lewis, its president, who has presided over the organization for five years. (She is pictured above.) Her involvement with FNU, first as a concerned citizen and now as its leader, is well known in the community.
As cliché as it might sound, finding solutions is necessary in a city that has seen its fair share of tough times – tough times most Flint residents are sick of talking about. One more discussion about water or old pipes or blight and most residents will either give you an earful or walk away entirely.
Crime, crisis, unemployment – each word has seen all manner of possible adjectives placed before it, and not always the most complimentary ones.
At each month's meeting, FNU seeks to change the dialogue and, in the process, make Flint a better place to live.
At the meetings at the Flint Public Library concerned citizens gather to trade information and resources and listen to speakers Lewis chooses to inform on a key issue – usually a heady one.
The February meeting offered updates oncrime statistics and water distribution.
Emanuel Taylor, a crime analyst working through Wayne State University and embedded in the Flint Police Departmentand its CompStatprogram, shared crime statistics.Taylor's work as an analyst is provided through a grant from the Ruth Mott Foundation.
CompState, or Compare Statistics, is a combination of management, philosophy and organizational management tools used by city police departments to track crime. The statistics are then handed to city agencies and nonprofits, like Americorps and FNU, for concrete use in fighting crime and making change in neighborhoods. Data is compiled from police reports, not 9-1-1 calls or unreported incidents, so the information shared may not fully reflect the crime that happens in Flint.
In September of last year, Flint was ranked the ninth most violent city in the United States, according to the FBI. There were 792 crimes reported per 50,000 residents. That's down from 1,542 reported violent crimes the year prior. Flint has the fourth highest murder rate of cities in the country with a population of 50,000 or more.
Those attending the meeting told Taylor gas stations have become hotspots for crime. He will share that information with the appropriate officers.
Chris Hill, an engineer and vice president at Arcadis, which was hired by the City of Flint in 2016 to evaluate water distribution, shared data on the water crisis recovery.
Arcadis, a Netherlands-based global design and consultancy firm for natural and built assets, was hired by the City of Flint in 2016 to prepare a Water Distribution System Optimization Plan under a contract worth approximately $800,000. The plan is intended to guide improvements for the distributed water quality, sustainability and long-term operation of the city's aging water system.
The company's U.S. headquarters is in Colorado.
The original assignment was to guide improvements for the distributed water quality, sustainability and long-term operation of the city's aging water system. That was expanded in 2017 to include modeling the water distribution system, developing an asset management program, creating a risk-based pipeline replacement program, and conducting additional corrosion control testing.
The recommended standard operating procedures are available at Michigan Department of Environmental Quality's website.
The goal is to help the city make better financial decisions and further optimize water quality improvements.
"We completed an evaluation, created an asset management plan for the city, and did capital investment recommendations for them as well," says Hill.
The company has determined city pipes are well-organized to reroute delivery in the event of a water main break
"The city has included locations they are monitoring to make sure water improvements are remaining effective," says Hill. "Arcadis is doing development of a pipeline replacement program, too. It will replace almost all of the water distribution pipes. It's a 20-year plan that ends in 2037."
This is the second time Hill has presented to FNU. He also spoke to the group at city hall when first on the job.
He says the optimization plan will be completed in March, with the exception of further testing that will be done in October and November. A full report will be available end of March or in early April.
Hill and his colleagues will continue to work on the corrosion control treatment that the EPA implemented.
"The lead concentrations are well below the regulatory limits city-wide," he says. "The recommendation from the EPA is that those with lead service lines might still want to use filtered water. The EPA has provided residents with sink monitors in order to filter their water. Otherwise, the city water coming out of their tap meets all federal and state requirements."
"The public wants to know what's going on, and we are doing everything we can to let them know and keep them informed."
— Lead photo of Carma Lewis by Danen Williams
Comments
comments