It isn't always easy to make healthy changes and stick with them. So Marquita Adams started her company, Harambee Wellness, in 2016 to provide what she thinks can make all the difference: a support system for healthy lifestyles.
Born and raised in Flint, Adams earned the nickname "Zumba Diva" when she discovered the dance-based aerobics workout, Zumba, and couldn't get enough. But the fitness coach wasn't always so physically active.
"I was actually never an athletic person. I was overweight growing up," says Adams.
"I was a little, chubby kid that nobody wanted on their team," she laughs.
But while watching her family battle through health issues, and concerned about her own future wellness, Adams decided to make a change. She wound up finding her true passion.
"In my genetics and family history, I am predisposed to heart disease, cancer, Alzheimer's…basically, anything that you have heard of, my family has had it," says Adams, "I wanted to break the cycle."
After losing 40 pounds and becoming a licensed Zumba instructor in 2011, Adams was motivated to share what she learned along the way.
"I thought I was supposed to be a chef," she says. "I am an engineer by degree and that is what I do for my day job, but this is what gives me the most joy, the most satisfaction. To see the progress and the potential in people before they do, and to be able to remind them of where they started is awesome."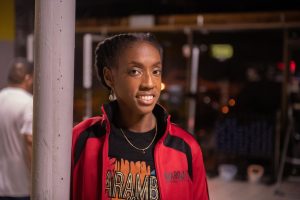 Harambee, a Swahili term for pulling together, is a word that stuck with Adams over the years, inspiring the name of her business. The Harambee Wellness support system is built in three parts: fitness, nutrition and lifestyle. The program includes workout classes like Zumba, boot camp and small group training. Harambee Wellness also hosts monthly outings for groups and provides healthy eating tips. The group has visited locations like Flint Farmers' Market and free Saturdays at Flint Institute of Arts, most recently to sample healthy eating options from the restaurant, Detroit Vegan Soul.
"The lifestyle activities get us out of the gym," Adams says. "It is about connecting with each other and doing things you might not necessarily do on your own. It is just coming together and finding different ways to live a healthier lifestyle."
Over the past year, Adams has added an apparel line, designed and printed locally, and a new "Sweat Trap" fitness class inspired by her students' love for trap music. She has also extended Harambee's reach into the Flint community through monthly pop-up workout sessions.
"I do free pop-up workouts once a month at different locations in Flint. The premise behind it is showing that fitness can happen anywhere," says Adams. "I really want to expose people to fitness. My goal is to transform lives and make them healthier."
For Childhood Obesity Month in September, Adams' pop-up workout targeted Flint children. Harambee invited youth and their parents to Factory Two downtown, letting the children participate in the session free of charge.
Adams plans to open her own studio space in Flint.
"Ultimately, I want to change the world and make it a healthier place," says Adams. "I have this overarching vision because I know that, even if I don't reach it, I will still have made an impact."
For additional information visit https://harambeewellness.com/.    
For additional information about 2018's Vehicle City Fashion Week  and its annual runway event scheduled on Saturday, Nov. 17, visit the Vehicle City Fashion Week and Fashion Against Violence Facebook and Instagram pages. 
Comments
comments