Flint's nightlife isn't what it used to be. It's bigger and more bodacious than ever and provides a great backdrop to get your city swag on.
Local bars, restaurants, cafés and entertainment venues are becoming more popular. Those who love their hometown are learning it's no longer necessary to hop on the highway to find fun in cities nearby. As more Flint street lights shine down on newly opened establishments or old favorites that offer good food, drinks, music and other performances after dark, the choices of what to do and where to go just keep growing. With so many options for enjoyable evenings, a good time is never far from your front door.
Check them out in our City Guide, published weekly in TheHUB.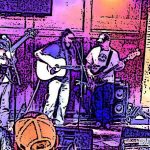 TONIGHT, Oct. 19; – The Outfit performs live at Churchill's – If your from Flint then you already know The Outfit!, a Monday staple at Churchill's. Their strings and harmonies are like no other.
Located at 340 S. Saginaw St. in Flint's historic downtown district, Churchill's features 400+ whiskeys.
To learn more visit Churchill's Facebook page.
Test your wit at the Fenech Feud table, challenge players at other board game stations or settle in for a few rounds of Mario Kart on the biggest of big screens. A cash bar and free refreshments will be available.
For the indoctrinated, the game is "intended for juvenile, immature adults (18+ only) who never grew up but are forced into adulting." We're only the messenger here guys. French Feud is the voice.
The Sloan is located at 1221 E. Kearsley Street.  Tickets are $10 in advance or $15 at the door. If you are a member, get in for $6 advance/$10 door. For more information, call 810-237-3427 or visit the event page.
Tuesday, Oct. 30; Spooky Tuesday at The LOFT  –  Flaming shots and martinis will be flowing, alongside Tarot Readings and dark poetry performances by KayCi Mae and a whole lot more.
Two spooky DJs (aka Michael Absher and Brandon Trammel) will be spinning eclectic tunes too. The LOFT is located at 460 S Saginaw Street. To learn more see the their event page.
Wednesday,  Oct. 31;  Soggyween at the Soggy Bottom Bar – The best costumes, creatures and cocktails will be "on" at Soggy Bottom Bar's "Soggyween."
The costume and trivia contest starts at 8 p.m. and the crowd will take over from there. Get started at the bottom.
Soggy Bottom Bar is located at 613 M L King Ave. To learn more visit their Facebook page. 
Raspberries Rhythm Bar & Grill is located at 448 S. Saginaw St. in Flint's downtown business district.
To learn more visit Raspberries' Facebook page. 
Friday, Nov. 2; 7 p.m. – 9 p.m. (Doors open 6:30 p.m.) Buckham Gallery Mic Night – It's Mic Night at Buckham Gallery.
Show off your theatrical, musical, spoken word and other performing arts skills (acoustics and small amps; 10 min set limit). Beverages (bottled water, coffee) and cookies are a part of the gig.
The gallery is located at 134 ½ W. Second St.
To learn more visit the Buckham Gallery Facebook page.
Friday, Nov. 9, 6 p.m. – 9 p.m. Second Friday Artwalk. Everyone loves this cultural event, which features an ever-changing glimpse of area artists, local vendors and entertainment, as well as an opportunity to meet and mingle with locals.
Maps are available at the Greater Flint Arts Council and parking is available throughout the downtown area.
Nov. 20; 5 p.m. – 9 p.m. – Flint Institute of Arts' Late Night Wind Down.
Enjoy drink specials and fun events in the Palette Café in addition to gallery tours, meditation, community yoga and more. There's even free art projects for kids and adults.
Comments
comments