Making sure that everyone is included in opportunities might be the biggest challenge created by capital investments in Flint. And that was the primary topic of discussion last weeks "Aspire to Transform: The Power of Older Industrial Cities" event. The forum was sponsored by C.S. Mott Foundation and the University of Michigan-Flint's EDA University Center for Community and Economic Development.
Re-building older cities is possible, says the event's keynote speaker Alan Berube, a senior fellow and deputy director in the Metropolitan Policy Program at the Brookings Institute. Although there are plenty of success stories across the U.S., recovery does not come in a one-size-fits-all package, he told participants.
His message was that Flint needs to connect with other U.S. cities that share some of the same challenges, resisting the urge to pattern itself after larger cities like Detroit, which have different challenges and opportunities.
"Urban cities need to stop trying to reinvigorate the economic model that worked yesterday and start building the model that will work in the future," says Berube. "There's a need to look beyond boundaries, and collaborate more, particularly with surrounding cities and regions.
He's spent decades studying cities in America's Rust Belt, including Flint. Most share the same problems: declining population, sizable losses in manufacturing jobs and investment, and economic segregation.
Equity and inclusiveness is what's moving the needle, Berube says.
"We've got to create programs that move everyone forward together," he says.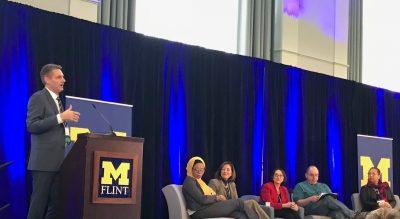 Panelists included Maria Woodruff-Wright, vice president of operations and CFO of the Skillman Foundation, Raquel Thueme, president of the Ruth Mott Foundation, Maryum Rasool, executive director of the Sylvester Broome Empowerment Village, and Adam Lutzker, associate professor at University of Michigan-Flint.
All were invited to explore how the process of inclusion in Flint might look in a conversation led by Jeanette Tamayo, regional director of the U.S. Department of Commerce's Economic Development Administration.
"We need to create a culture of inclusivity," Thueme told the panel. "Our residents need to know there is something here for them. Moving forward, we've got to be mindful in making sure we are building opportunities for everyone."
One way to do that is through technology, according to Lutzker, who calls it a great "equalizer."
"We need to harness it to expand our economic influence outside the sphere of our physical boundaries," he says.
Collaboration is key, but, admittedly, a challenge for most everyone, Woodruff-Wright said.
Moving forward, she stresses, involves more than owning your space: It involves owning up.
"When we talk to people that are different than us, we often discover the things we agree upon outweigh the areas we have differences in," she says. "We've got to continue to build opportunities for collaboration and begin to elevate our expectations.
"Being the best in Flint is no longer as valuable as being the best in a broader and more diverse regional space," she added.
Flint has had success in collaboration, noted Theume: "Our core strength is our philanthropic community, which has done a pretty good job coming together on issues, particularly following the water crisis."
Leaders need to create a collective vision around where the community is going, Thueme challenged.
Engaging surrounding cities like Grand Rapids and Kalamazoo could create new synergies, according to Woodruff-Wright, who notes that, by working together, Michigan cities can collectively elevate and succeed beyond the physical boundaries of their borders.
"We need to come together to build a more equitable city, region and state," she says. "And the effort needs to be purposeful, and a part of our agenda, not an aside."
Foundations need to be risk takers and provide "patient capital," according to Thueme. "We need to connect, engage and bring (more) people together."
"Most of our largest population growth is ethnic minority, yet it's the largest populations that are being left behind and outside of economic recovery. That's a problem," says Theume.
She says some of Flint's most pressing challenges include support for returning citizens, workforce development and the need to replace cumbersome and outdated processes.
"There's an aspirational gap here in Flint," added Rasool, "particularly among our youth. A lot of programming is in place, but collaboration is not.
"In order for solutions to work, our process needs to be more inclusive."
Innovation is one of the products of inclusiveness, "and that's why we need to include our young people," Woodruff-Wright said. "We should ask ourselves: 'What if everyone in Flint and Genesee County had a skill set that was in demand and needed by Michigan employers? What would happen as a result of that?"
Employment is a great bridge-builder, Berube said, reminding the audience that Flint must work harder to build more vibrant connections between city and neighborhood development.
UM-Flint will head efforts to foster continued dialogue and collaboration beyond "Aspire to Transform," according to David Mérot, senior project manager of the campus' EDA University Center for Community and Economic Development.
"Our university will act as a conduit for on-going collaborative discussions," he says, "convening conversations, aggregating knowledge, information and ideas in a neutral environment that allows community voices to be heard."
Editor's note: See additional coverage about the Brookings Institute study here.
To see the full report and additional information visit the Brookings Institute .
To learn more about the University of Michigan Flint's EDA University Center for Community and Economic Development, click here.
Lead image courtesy of the City of Flint.
Comments
comments