Lev "LV" Hunter's eyes are on the prize.
Hunter, a local business owner, is a finalist in this year's Fenton Shark Tank competition.
"It's an achievement in itself just to get selected," he says. "Now we have to take that same momentum to win."
On Nov. 29 at the Freedom Center, Hunter will get five minutes to present to a panel of local entrepreneurs and tell them why his small business, The Daily Brew, should win $1,000. After the presentations by finalists, a combination of judge input and crowd votes will determine the outcome of the second annual competition.
"That $1,000 would feel like a million," Hunter says.
If he does win, which Hunter thinks he has a really good shot at, he already knows what he'll use the money for: equipment to expand what he offers at The Daily Brew pop-up events. The goal would be making the overall ambiance more captivating.
Each of the finalists has also partnered with a team of entrepreneurial coaches. While Hunter thought the competition's focus would be on developing the business pitch, his coaches had something else in mind. The mentors, who groomed last year's winner of the contest, say Hunter has to be prepared professionally, in order to run a sustainable company. So they've been having him read books about business and personal development, along with helping prepare him to face the judging panel.
Hunter plans to discuss how he's building a customer base through social media, sort of reverse-engineering the normal process of opening a shop. Naturally, he's going to talk about his coffee. Hunter says freshness is a priority for The Daily Brew, which is why the coffee he sells is roasted locally and within the week. He's known for using the pour-over method.
"You're going to get a more complex cup of coffee than you would with a traditional coffee maker," he says.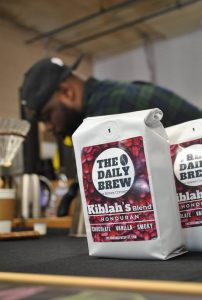 The Daily Brew offers three blends, Sunday's Table, Kiblah's, and Granny's Roast, the latter a nod to his grandma, who introduced him to coffee as a young child. Hunter eventually plans to expand his products, open a store featuring Daily Brew goods and those of other local companies. He also plans to franchise and create more videos for his social media platform.
Video posts might not seem so typical for a coffee company, but The Daily Brew actually began as a podcast and YouTube channel last November, before Hunter began making his own brew.
"I believe coffee brews conversation," he says. "I think conversation can change culture, and culture can change regions and lives."
Conversations sparked so far — through guests not only on the podcast but during his Facebook live streams — have ranged in topic from life insurance to church. Hunter posts live streams almost daily.
While promoting The Daily Brew, preparing for the competition, and maintaining a day job as care coordinator at Hurley Medical Center's trauma recovery unit, all that coffee he drinks probably helps a little.
"I'm wired to be an entrepreneur," he says. "I'm living out my dream, actually. I'm living my best life, so I'm excited."
To purchase tickets to the Fenton Shark Tank competition visit https://www.eventbrite.com/e/fenton-shark-tank-2018-tickets-48204036571 
Comments
comments