Not all accidents happen by mistake.
Santoya Lewis' work-related injury has led her to answer a call of entrepreneurship she might never have recognized.
Since spring Lewis has operated a one-woman business that fills a niche in the community and inspired her efforts to create opportunities for other entrepreneurs to network and increase their visibility.
Lewis recently announced her first vendor event, sponsored by Chloe's Bowtique, set for 9 a.m. to 5 p.m. Sept. 8 at Greater Holy Temple Baptist Church, 6702 North Dort Highway. Along with Lewis' 6-month-old online store Chloe's Bowtique, the bazaar will showcase Flint-based small businesses throughout the community.
Many would say it's an ambitious move to organize an event promoting other companies while hers is still fledgling, but Lewis sees the initiative as part of a greater vision to strengthen the city's business landscape.
"A lot of people have left Flint because of the water crisis," says the 29-year-old native of the city. "Now there are a lot of businesses here we don't even know about."
Chloe's Bowtique emerged, filling a local business void Lewis hadn't previously recognized. Enjoying the 2-year-old daughter who inspired her store's name, Lewis often spent as much as $5 apiece on pretty bows to decorate little Chloe's hair.
Lewis' mother pointed out the expense involved in adorning her granddaughter.
"She said, 'You don't need to put a new bow on her head every day,'" Lewis recalls.
But it was a joy for Lewis to have a child she could make prissy, since she had an older son, but no girls.
"I'm into decorating, I like pretty things," she says. "I'll go all out for my children's birthday parties. But I wasn't into girly things because I had a boy for so long."
She hadn't imagined herself in a business venture selling "girly things" before she hurt herself while she was a driver for MTA after helping to lift a passenger. But the time she spent recovering led her to a realization.
"I was spending a lot of money on bows," she says. "Why not sell them?"
The move from concept to formation of Chloe's Bowtique wasn't immediate.
"I kept sleeping on the idea of starting a business," says Lewis.
Her sister encouraged her, and Lewis began by researching merchandise during road trips to three states.
"I didn't want to sell the same products people can find on Amazon," she says. "I wanted to look at the product and touch it, and see the quality, and I didn't find it right away."
But once she found what she was looking for, Lewis was eager to pursue the vision her littlest one inspired. Since spring she's vended at church conventions, community events, even on corners "in 100-degree heat," she says.
Pop-up store appearances have helped promote Chloe's online supply of personalized bows and bow boxes containing names and themes. Lewis also expanded the products to include t-shirts, tutus and other girls' accessories.
She learned to operate a press and a machine that cuts vinyl. Her sister has been a source of occasional support, but Lewis says she's mostly self-taught.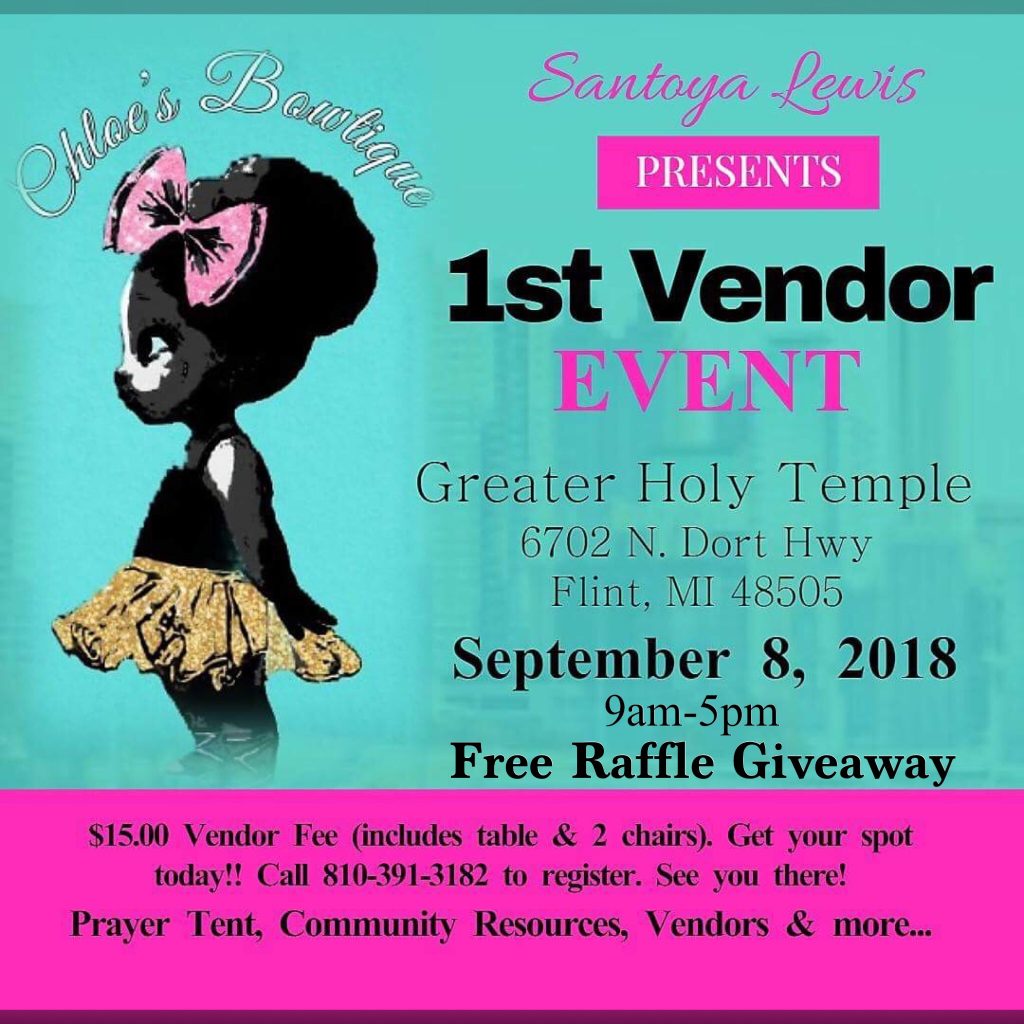 "Google and YouTube are your best friends," she says.
In just months she's created enough social media presence through Facebook and Instagram to help generate customers in Flint and as far away as Muskegon, Chicago and Kentucky. Lewis mails orders within a few days, but says she also enjoys interacting with the community and "being able to meet people from different walks of life" at vendor events.
She invites participants in the Sept. 8 event, which is free for the public to attend, to enjoy some of the same experiences that inspire her.
"It's geared toward small businesses and giving them the opportunity to interact with one another," she says. "I just feel like it's going to be good exposure not only for the businesses, but for the community as well."
Vendors interested in attending the Sept. 8 event at Greater Holy Temple Baptist Church may call (810) 391-3182 to register. To learn more about Chloe's Bowtique visit Chloe's Bowtique's Facebook page or Instagram @chloesbowtique18.
Below is a listing of some of the vendors visitors can expect to see the event:
Bead Gang
Creative Queen
Croomster Creations
Glazin' Nails
Gloster Janitorial Services
It Works!
Kinita Kreations
L. Swims Made It
Matilda and Jane Clothing
Mommy and Me
Myth Clothing Company
Niegel's Creations
P Vision Events.
Pink Kitty Lashes
Presser Applied Clothing
P Sweets
Snobbed by a Doll
Thirtyone
Torea's Treats
Torienan & Friends Boutique
Wink of Pink
Comments
comments